D-Day beaches


Omaha Beach
the nightmare of « Bloody Omaha »
(06:30 am, between Vierville-sur-Mer and Colleville-sur-Mer)
The American infantrymen had to reach the beach under the sustained fire of the German defences coming from the top of the bluff that towered up in front of them like a high wall.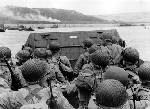 Conseil Régional de Basse-Normandie / National Archives USA
The men had barely jumped out of their landing craft that they drowned or were shot outright by the enemy bullets. For the most fortunate, everything is good to protect : scattered fragments of a landing craft struck by a shell, emerged obstacles that strewed the beach or lifeless bodies of their comrades that floated at the surface. Once they had made it to the beach, those who had miraculously survived still had to get over a shingle mound at the bottom of which the men, curled up, found scanty shelter. Then they had to run across a mined, sometimes marshy flat zone and finally to climb up the steep bluff in order to drive out the enemy at the top of it.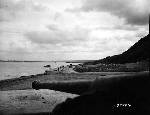 Conseil Régional de Basse-Normandie / National Archives USA
Such was hell that the very first waves of soldiers experienced on the bloodiest beach. In spite of the sizeable number of 34,250 soldiers, the beachhead was restricted and fragile at the end of the day. The junctions with Gold Beach in the east and the American airborne divisions in the west were not effected. The dreadful "Hedgerows Battle" was then about to start up in order to capture the highway N13 and to advance farther inland.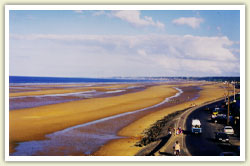 Forum