Giverny
Invitation from the master Monet to the "Kingdom of flowers"
It was in this little village at the riverside, on the borders of Normandy and Ile-de-France, that the impressionist painter Claude Monet purchased a house in 1890 that he was renting at the time. Passionate at gardening and horticulture, he made of his Norman property an ideal living environment. Everyday he put a lot into the decorative and floral improvement of his garden which is the reflection of his personality but also a real work of art.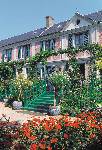 Photo :G. Rigoulet
Facing his house, the stroller-photographer sometimes walks along the paths covered with bowers of climbing plants, sometimes makes his way along borders of flowers with well-matched colours. Constantly importing vegetable species from America and Far East, Monet obtained a sort of floral display most of the year (jonquils, pansies, tulips, irises,... in spring; dahlias, roses of all varieties, anemones, hollyhocks, sunflowers, begonias,... in summer and autumn.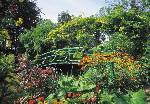 Copyright CRT Normandie
Nearby, Monet fitted his "water garden", more exotic (waterlilies, bamboos, rhododendrons...) but also more romantic with its winding paths around the pond spanned by a "Japanese bridge".
That was this "kingdom of flowers" that Monet has frenetically painted for 33 years and that he shared with his admirers and friends, who used to come in great numbers to visit him.
Let us go in turn !

Open from April 1st to October 31st.
Forum