Bayeux
An architectural case for the oldest comic strip.
Liberated on June 7th 1944 by the Allies, Bayeux is known all over the world for sheltering the famous Bayeux Tapestry. In fact it is a 230 feet long by 27 inches high embroidery (70 meters by 50 centimeters) relating scene after scene like a comic strip, the preparations of the conquest of England by William the Bastard, Duke of Normandy then, as well as the Battle of Hastings (1066) that made him conqueror and King of England. This unique work of art was made of woollen yarns on a linen cloth, in the 11th century.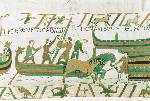 Photo : OT Bayeux
Totally spared by the allied bombardments in 1944, the historical centre is a jewel that has kept its medieval layout. Its narrow streets are bordered with half-timbered façades and mansions from the 14th to the 18th centuries, overlooked by the cathedral.
This last was raised on the site of an ancient Gallo-Roman temple and was consecrated on July 14th 1077 by William the Conqueror and his half-brother Odo, bishop of Bayeux. The cathedral was damaged during the fratricidal struggles of succession which opposed two of the Conqueror's sons. It was subjected to reconstructions and successive modifications that convey an expression of the Norman architecture, from the Romanesque time to the flamboyant gothic (11th-15th centuries).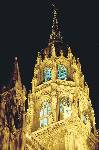 Photo : G. Rigoulet
Forum