Honfleur
a lively depiction among the most picturesque in Normandy
Located at the mouth of the River Seine on the left bank, Honfleur has been for decades the "city of the painters" to whom it has been providing a vast number of subjects. The most picturesque view is undoubtedly focused on the Old Dock, where old sailing ships often moor. The background of the Old Dock is dominated by rows of brightly coloured terraced houses some 5 or 6 storeys high, sometimes only one room wide ; all look as though they are holding each other up.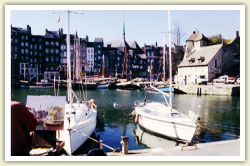 At the central part of the harbour area stands a very imposing building known as the "Lieutenance" ; it is significant because it is a rare remain of the fortification when Honfleur was a major port in the Middle Ages. Later it was from here that Samuel de Champlain left France in 1603 to become the founder of the Province of Quebec (in 1608).
The town has perfectly preserved its salt warehouses that stood in past inside the city. Under their superb frame, salt was stored and heavily taxed when marketed. Introduced in France around 1380, it was abolished at the French Revolution (in 1789). France has nevertheless been holding the miserable record of longevity in the world!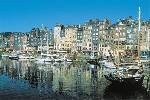 Photo : E. Bénard
In the Saint Catherine suburb, the eponymous church is the living souvenir of the religious fervour of the seafarers who lived very close. Hurriedly and cheaply built after the Hundred Years War (1450), local resources were resorted : the forest and the labour. Thus the shipwrights, the work of whom is easily recognizable, raised a wooden church among the largest in France.

Honfleur has been benefiting by an opening up since 1995 when the Normandy Bridge was opened ; this later spans the river Seine at its mouth, linking Honfleur to Le Havre. Longest cable-stay bridge in the world when it was inaugurated, its smart outline makes it stand out and constitutes a technical feat of civil engineering : thanks to its streamlined shape and special materials, it can resist the most powerful winds.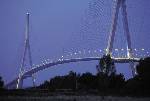 Photo : G. Rigoulet
Forum