Rouen
Capital of the Dukes at Big Clock time !
Its location in a loop of the Seine, nearly halfway between Paris and the estuary (Le Havre – Honfleur), had favoured its commercial dynamism for a long time.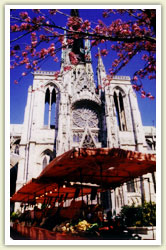 Photo : Matthieu Blin
Capital of the Dukedom of Normandy (911-1204), the cathedral was the Dukes' crowning place. The cathedral topped by a slender cast-iron steeple is one of the symbols of the town. It shelters among the most gorgeous stained-glass windows in France, while its façade was made famous by Claude Monet who painted 30 versions of it.
A resounding moment of the Hundred Years War (1337-1453) was Joan of Arc's trial that sentenced her for heresy to be burnt alive on the Old Market Square, on May 30, 1431.
The "rue du Gros-Horloge" (Big Clock Street) is the main street that links this square to the cathedral. The famous Big Clock Tower is a pavilion of renaissance style displaying on both of its sides an imposing 16th-century polychromatic screen that gives the time with the help of a single hand. The illustrated screen diary permits to guess the day of the week, as well as a globe to find out the moon phases.
As this is a place where people are constantly coming and going, the Big Clock Tower is sustained by an arch spanning the street. This main street, reserved for the pedestrians, is lined with a series of sumptuous half-timbered façades painted with vivid colours.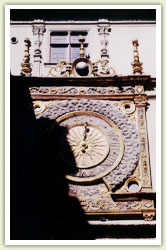 Photo : Matthieu Blin
Other interesting sights :
Bourgtheroulde Mansion : 16th-century private mansion having a gallery of renaissance style ornated with fine low relieves.
Saint Maclou atrium : former parish graveyard in a cloister shape whose galleries sculpted of funeral scenes used to be an ossuary.
Forum