Testimonials. Find me also on Trip Advisor.com
From: "LeVine, Mark"
To: "Christophe RAULT
Subject: RE: 29/30 April Tour
Date: Tue, 2 May 2006 06:41:41 -0500
Christophe,
Thank you so much for the great tour. It will go down as one of the major memorable experiences of my life. I could not have asked for a better tour guide. Your excellent knowledge of the history, your great presentation / communication skills, and wonderful attitude all adds up to one word - excellence.
Thanks for everything.
I am going to refer people to you as a great professional Normandy tour guide.
If you ever come down to the Southern USA look me up.
Best Regards, Mark
•••
From Martin LEVY: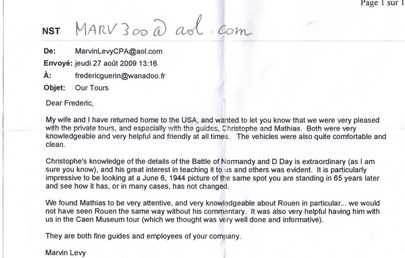 •••
From: "R C Jaitha"
To: "Christophe RAULT
Subject: Re: Tour and WD40
Date: Sat, 30 Sep 2006 12:55:27 +0530
Dear Christophe,
Firstly I would like to thank you Christophe for the wonderful time that we had visiting and seeing Normandy, and all thanks must go singularly to you for being an excellent Guide with immense enthusiasm and knowledge about the D-Day and above all being a very affable and human person.
We thoroughly enjoyed the five days that we spent with you visiting Historical places.
Whenever someone asks me what you did I have told them that whenever they wish to go they must go with you. Some of my friends were amazed that there is so much to see there that we spent five days there.
Thanks once again. Best wishes, do keep in touch.
Yours sincerely,
Rajnikant Jaitha, Pune, India, 30th Sept 2006
•••
From: "Narendra Shah"
To: Christophe RAULT
Subject: D-Day Beach Tour
Date: Thu, 14 Sep 2006 16:18:45 +0530
Re: D-Day Beach Tour

Hello Christophe,

Myself together with Mr. & Mrs. Jaitha had an excellent last week visiting D-Day historical area. The visit was very comfortable and you have guided us very well. The visit to Pegasus, Omaha Beach, Colleville Sur Mer, Pointe Du Hoc and Ste. Mère Eglise is not only fresh but I believe that I will not forget these sites. The DVD and Books will help us keep this visit evergreen.
I reached Bombay yesterday. Mr.& Mrs. Jaitha are expected to reach tonight.
Our sincere thanks to you for the overall assistance and guidance during our stay. As a matter of fact, I found Caen to be beautiful town with the comfortable hotel and canal flowing. If another opportunity comes my way I will come for a short visit. This was my first long stay outside Paris and was enjoyable.

Many thanks for everything you have done. Keep in touch.
Regards,

Narendra Shah
•••
From: "Pat Stratman"
To: "Christophe RAULT
Subject: Re: D Day Tour October 7
Date: Tue, 31 Oct 2006 09:00:13 -0500
Christophe,
I just wanted to thank you again for such a wonderful day spent touring the Normandy area. You certainly know your history and both John and I were in awe of your knowledge. When we got home, we rented "The Longest Day" and reminisced about the places we had been with you and all the "new facts" that you shared with us. I will certainly recommend you to any of our friends who may be planning a trip to your area as The Stratmans definitely will pass your name along as "HIGHLY RECOMMENDED"!!
Thank you again for spending your day with us.
Have a good holiday season,
Fond regards,
John and Pat Stratman
•••
From Mr/s Strong to their travel agency
"Your recommendation of Christophe as guide to the Normandy beaches was inspirational. He is a very personable young man and recounts the details of the Normandy invasion like a real authority. Christophe has great facility with english, likes to joke with Americans, and is very entertaining. He recommended some restaurants in Bayeux which we found to be a very charming as well as historical --"
•••
From: "Ken DESPOTAKIS"
To: Christophe RAULT
Subject: Re: 4th August Tour
Date: Wed, 9 Aug 2006 18:47:54 +0100 (BST)

Christophe, we had a wonderful time on our tour. When I turned on the television last night they were showing the entire season of band of brothers. I watched last night as Easy Company took out the german gun emplacement. I thought I was standing next to those brave soldiers after our trip with you. Again thank you so much for you time and expertise.

Ken