D-Day invasion


Pegasus Bridge
a night feat
On the night between June 5th and 6th , the British Airborne Division that numbered around 8,000 men were commissionned to make the east flank of the front assault secure, whether destroying some of the bridges in order to isolate the German troops stationed beyond, whether capturing imperatively intact some other structures. That was the case with the famous Pegasus Bridge, drawbridge spanning the canal linking Caen to the sea, located at Bénouville. This one was in the heart of one of the most daring operations of the landing. The surprise effect and the approach as close as possible to the objective were essential, hence the use of great-capacity gliders (30 men each).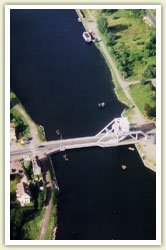 Photo : Matthieu Blin
Its effective seizure by the 90 British soldiers allotted in 3 gliders close at hand by the night of the full moon, would determine the outcome of the landing. This high-risk operation inaugurated the landing : the 90 men were the very first Allies who touched the Normandy soil, but were the first casualties also.
The capture of this bridge and of its neighbouring one, Horsa Bridge, should permit hundreds of thousand of men and vehicles to extend their advance eastward.
Forum