It was " a piece of cake! " *
(06:30 am at Sainte-Marie-du-Mont - La Madeleine)
The strong side current carried the landing crafts off course 1 mile southwards away from the scheduled landing place. This unexpected incident turned out to be fortunate since this coastal sector was weakly defended. The 23,250 Americans peacefully landed on an "improvised Utah" before effecting the junction with the 101st Airborne Division in the middle of the day.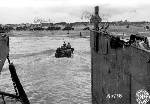 Conseil Régional de Basse-Normandie / National Archives USA
That also was the starting point of the hard advance across the bocage (farmland criss-crossed by hedgerows and trees) towards Cherbourg in order to capture its deep-water harbour as quick as possible, and this way relieve the artificial ports, which will be done at the end of June.
On August 1st, the 2nd French Armoured Division (around 16,000 men in all) under General Leclerc's orders landed on Utah Beach at Varreville. It was attached to the Patton's IIIrd Army and immediately took part in the Battle of Normandy.
* General Omar Bradley's words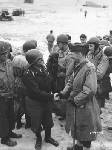 Conseil Régional de Basse-Normandie / National Archives USA
Forum